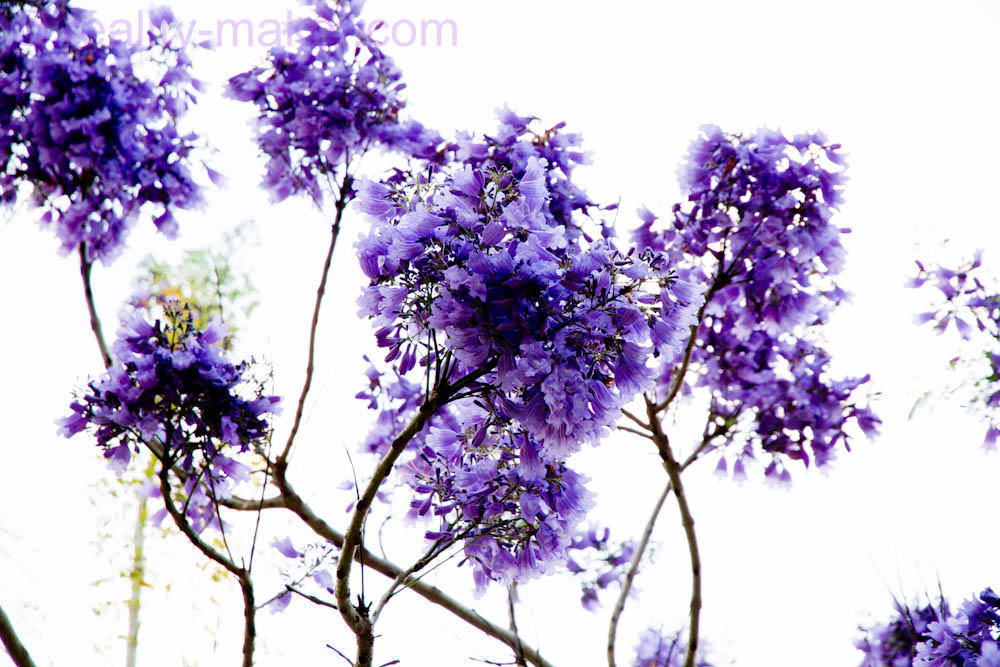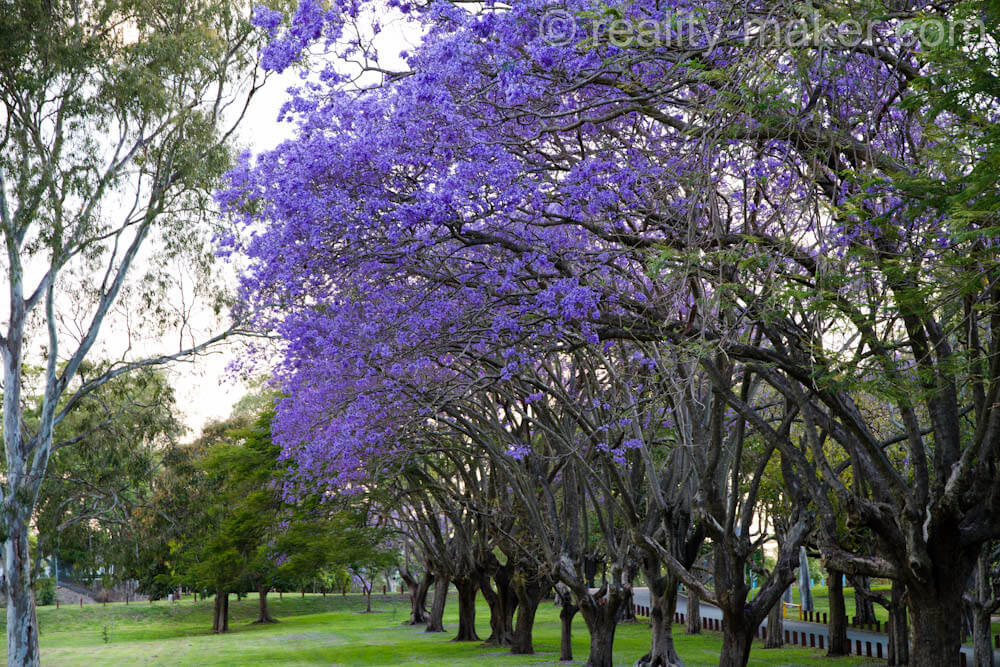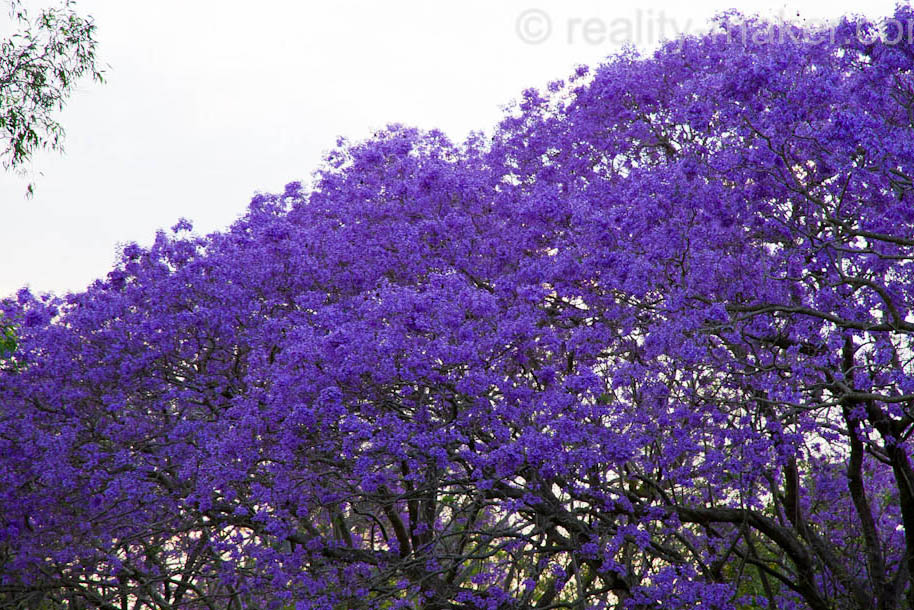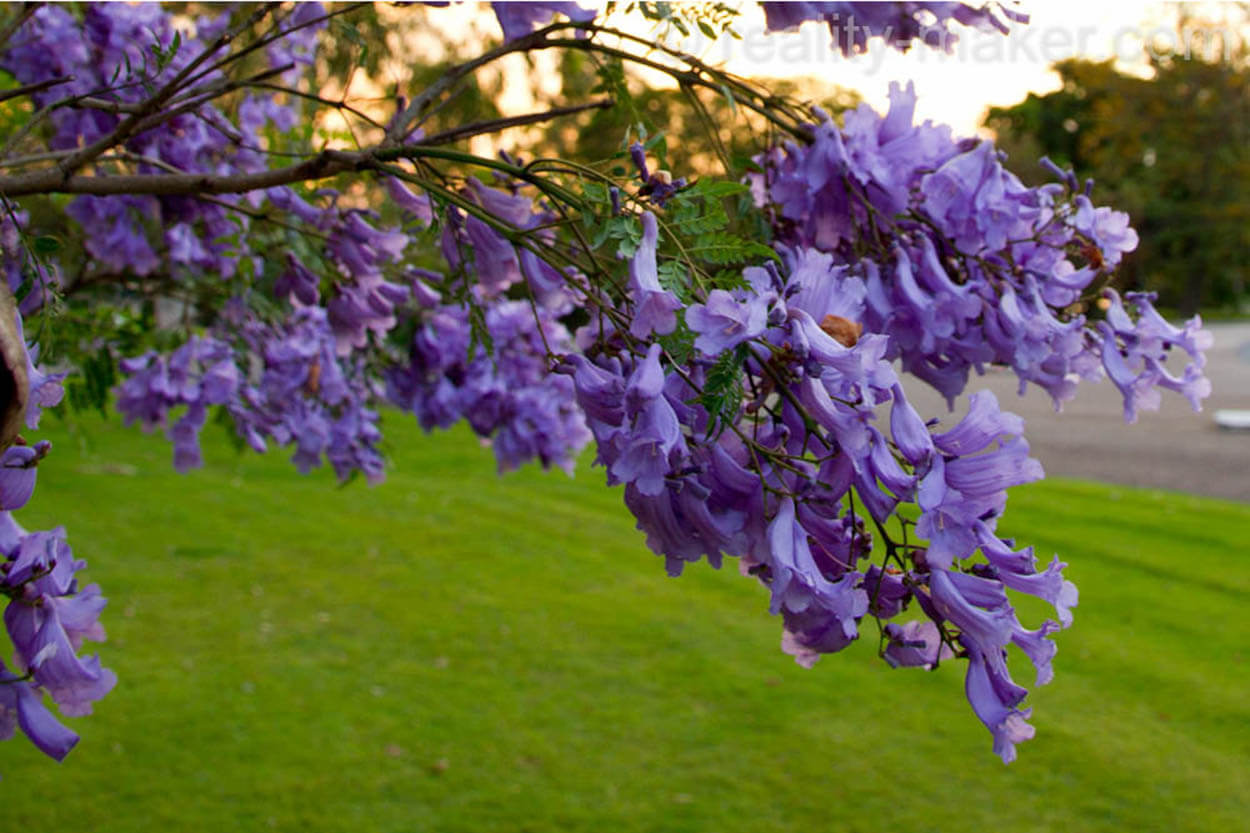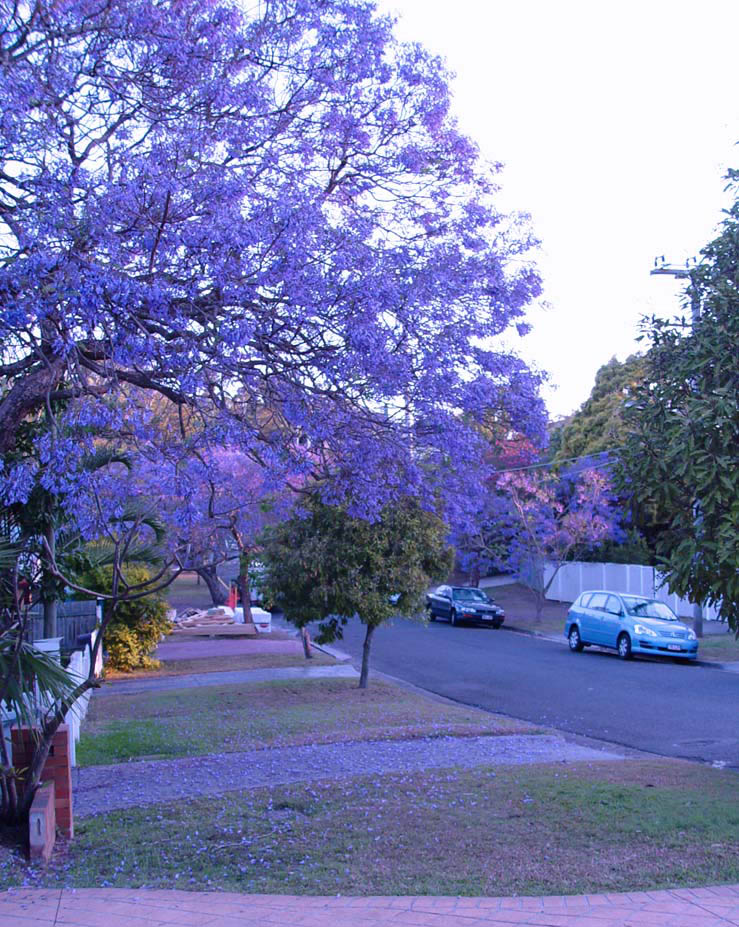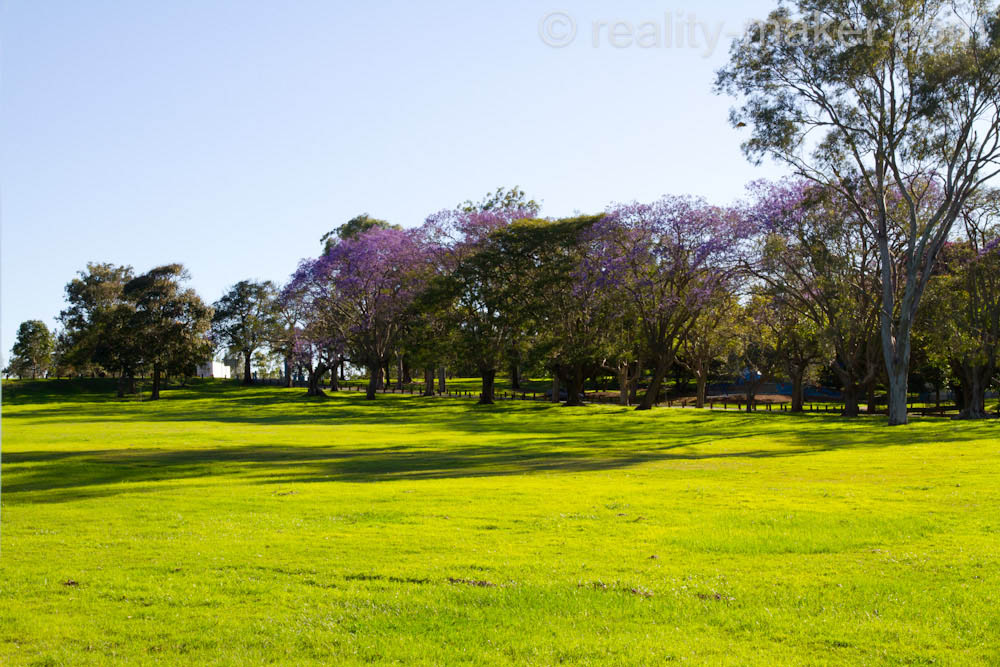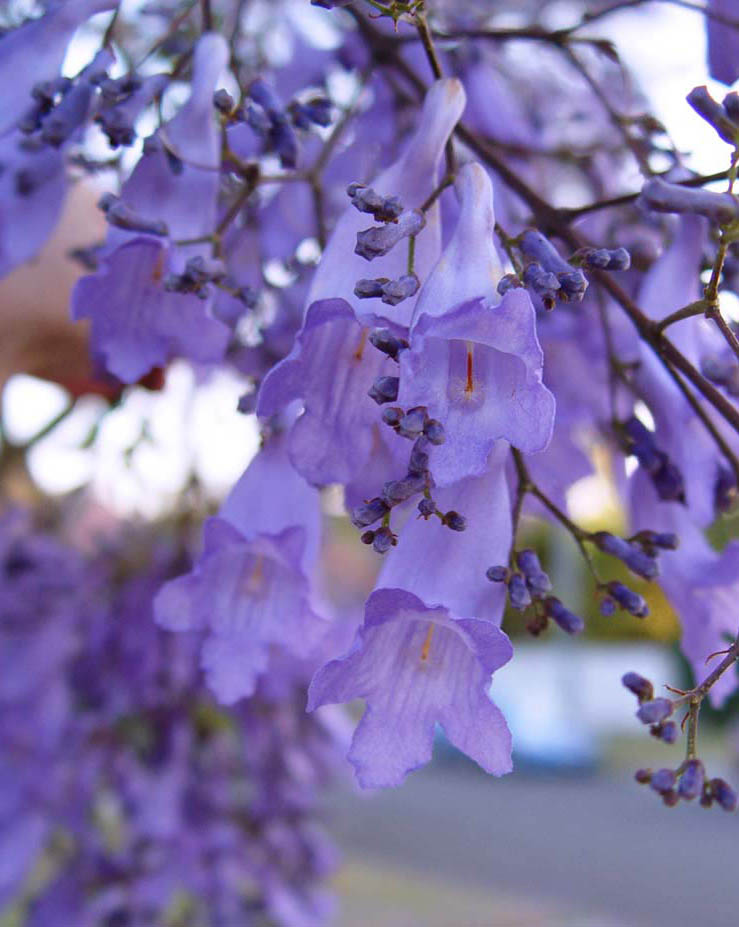 Брисбен, или как его еще называют «Бриизбен», город с огромным количеством различных деревьев, кустарников и цветов, а самое любимое австралийцами дерево — это джакаранда, завезенное в Австралию из Южной Америки (Бразилия).
Оно столь популярно, что австралийцы поют Рождественские песни о джакаранде, так как в южном полушарии в это время стоит лето. «When the bloom of the jacaranda tree is here, Christmas time is near.» Брисбен отмечен огромным количеством этих деревьев, джакаранда стала неотъемлемой частью портрета города. Цветущие деревья джакаранды можно встретить повсюду — вдоль дорог, вокруг университетов, общественных зданий, в парках, в ботанических садах и просто во дворах домов. Существует около 49 разновидностей этого дерева, но самое красивое и распространенное — Синяя джакаранда или Jacaranda mimosifolia.
Цветет джакаранда австралийской весной. Удивительно красивое зрелище в период цветения — кроны деревьев, растущих по разные стороны улиц, смыкаются над головой, образуя огромный фиолетовый туннель, пол которого застелен простилающимся вдаль фиолетовым ковром, в котором идет сиреневый дождь. Воздух словно наполнен сиреневым туманом — так цветет джакаранда.
Поверьте, просто дух захватывает, и кажется, что ты дышишь сиреневым воздухом.
Художники традиционно пленялись удивительным цветом и формой джакаранды. Возможно, наиболее известная работа с джакарандой принадлежит Бретту Уайтли – пейзаж «Дерево Джакаранды» (Brett Whiteley's «The Jacaranda Tree»). К слову, это полотно, созданное в 1977 году, было продано за 1.98 миллиона долларов в 1999.
Но мне больше нравится полотно «Под деревом Джакаранды» Риверса (1903, Rivers «Under the Jacaranda») в Галерее Исскуств Квинсленда — Queensland Art Gallery. Вероятно, это одна из наиболее известных работ художников Брисбена. Умиротворенность и спокойствие. Жалко, что само дерево, с которого художник писал картину, не сохранилось.
Название дерева португальское и переводится как «Твердое сердце». С джакарандой связано много легенд и традиций. Есть легенда, пришедшая из Амазонии, откуда джакаранда родом, которая утверждает, что это дерево мудрости и многих знаний. Возможно, эта легенда действительно имеет подтверждение, так как джакаранда является излюбленным деревом ландшафтов вокруг университетов и школ.
Сама же легенда такова. Однажды прекрасная птица (самец) по имени Миту с серебряным оперением прилетел с юга и привез прекрасную туземную жрицу, которую звали «Дочь Луны». Миту приземлился на верхушку дерева джакаранды, а жрица спустилась и жила некоторое время среди людей. Она поделилась с ними знаниями и мудростью, как отличать добро от зла. Затем пришло время покинуть людей, и Миту прилетел на верхушку дерева джакаранды, забрав у людей жрицу, украшенную цветами джакаранды. Забрав ее для ее суженного — Сына Солнца, который выполнял такую же миссию на другом краю джунглей…
Возможно, эта легенда о событиях, действительно имевших место, так как птица по имени Миту («Миту-Миту» как ее называют туземцы сельвы реки Амазонка), латинское название — Alagoas Curassow, существовала. Последние, не подтвержденные данные относятся к 1980 годам, и сейчас считается, что птица исчезла ( http://www.birdlife.org on 24/5/2006).
Другая история о дереве пришла из Африки. Джакаранда создает великолепную тень летом, и эта тень служит местом сбора племени. Старейшины собираются в тени джакаранды во время цветения и вершат правосудие.
Поэтому, выбирая тему для первого рассказа, мне было трудно справиться с соблазном рассказать о дереве, которое ассоциируется со знанием, правдой и справедливостью, и имеет твердое и сильное сердце и прекрасные цвета. Ну и поверье в то, что если хоть один цветок джакаранды упадет на голову, проходящему под деревом, то удача и успех будут сопутствовать во всех начинаниях — окончательно определило тему первого рассказа.
P.S. Моя жена мечтала, после фильма «Куда приводят мечты» жить там, где цветут эти необыкновенные деревья. И вот — еще одно желание исполнилось!
20 сентября 2010