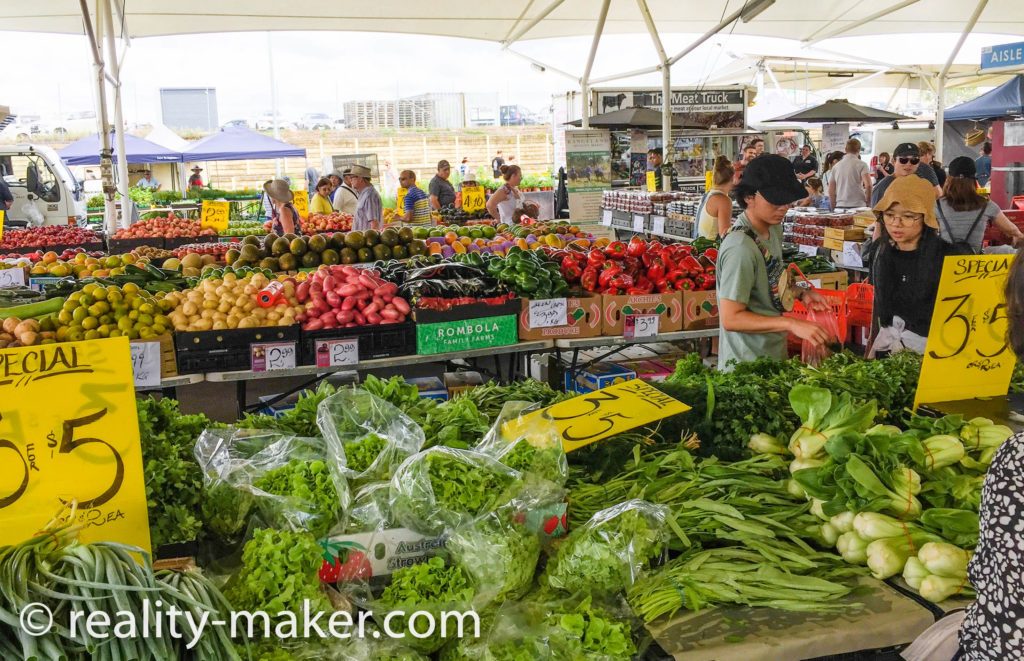 Пару лет назад я публиковал обзор с ценами в Австралии на овощи-фрукты на рынке Рокли, но время идёт, цены растут. Особенно поднялось в цене всё, что требовало для сбора сезонных рабочих, для которых Австралия закрыта. Покупателей от этого меньше не стало, скорее наоборот, их даже больше стало, в универмагах-то, цены тоже повысились. Вот самые сообразительные и переключились на субботний рынок.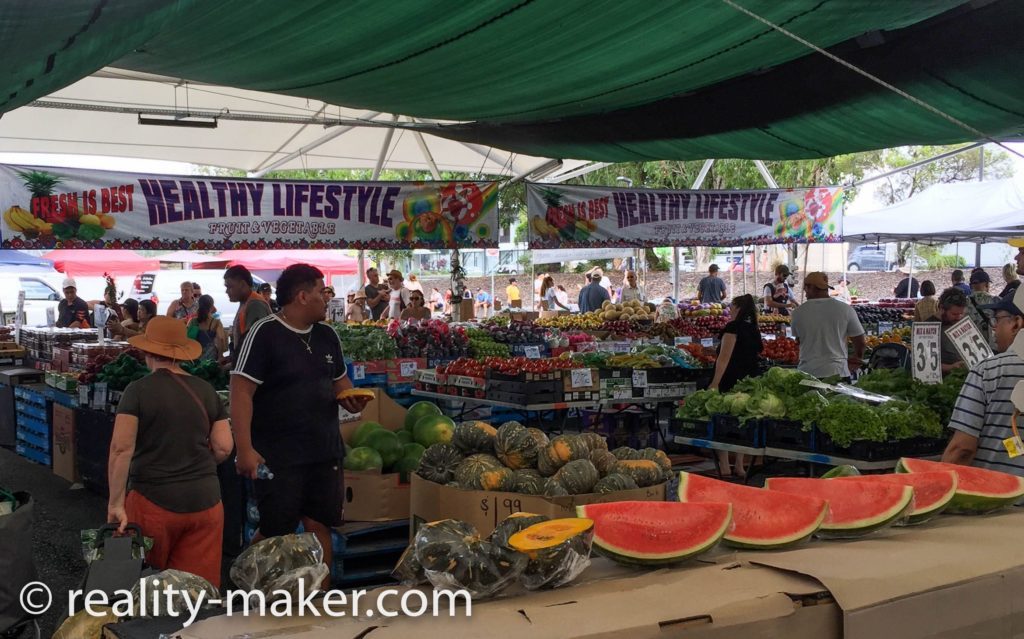 Что в Австралии хорошо, так это наличие свежих овощей и фруктов круглый год. Да, есть сезонность, на те же яблоки, манго, клубнику, апельсины. Но в сезон всего этого продаётся на порядок больше и значительно дешевле. Арбуз, стоимостью от 90 центов до $1.50 и весом в 15 кг в сезон можно взять весь за эту цену.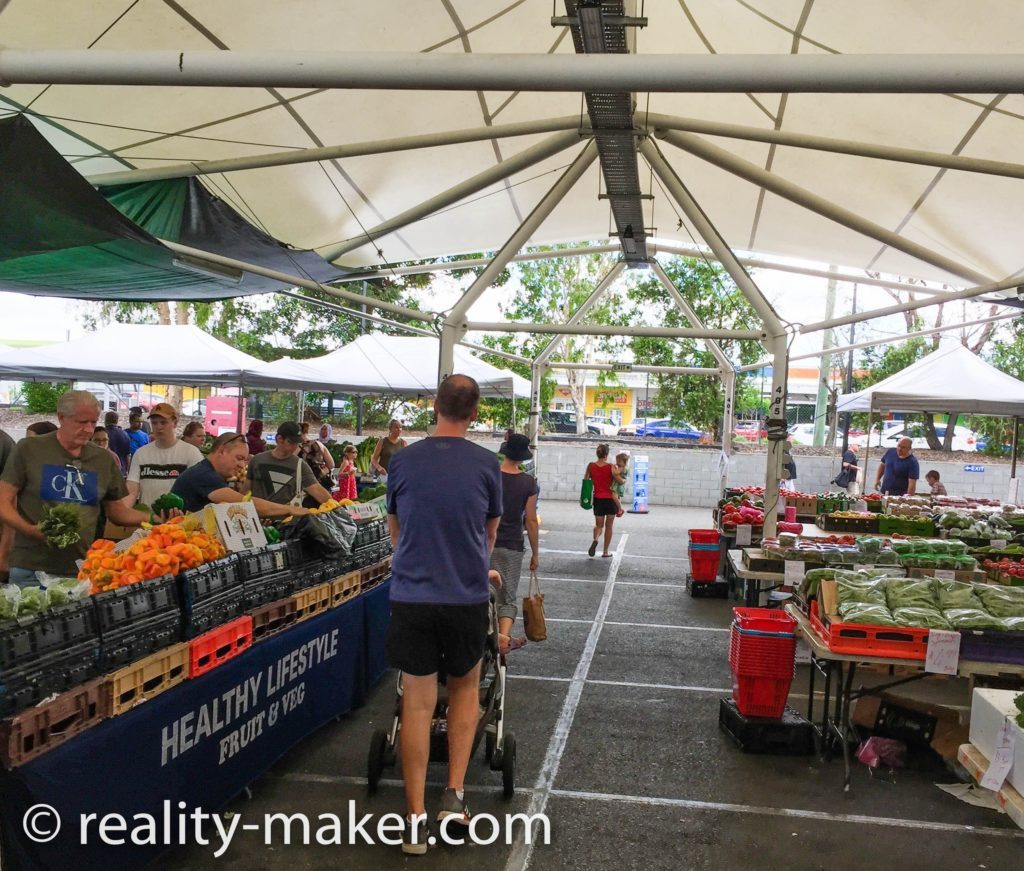 Перцы, огурцы, помидоры, зелень во всём её разнообразии есть всегда. Столько сортов картофеля как на рынке в Австралии я нигде не видел.  По началу, мы ещё пытались покупать что-то новенькое и старательно это новенькое готовить, но потом поняли, что если мы не собираемся превращать это в хобби, то надо ограничиться стандартными и привычным набором овощей и фруктов.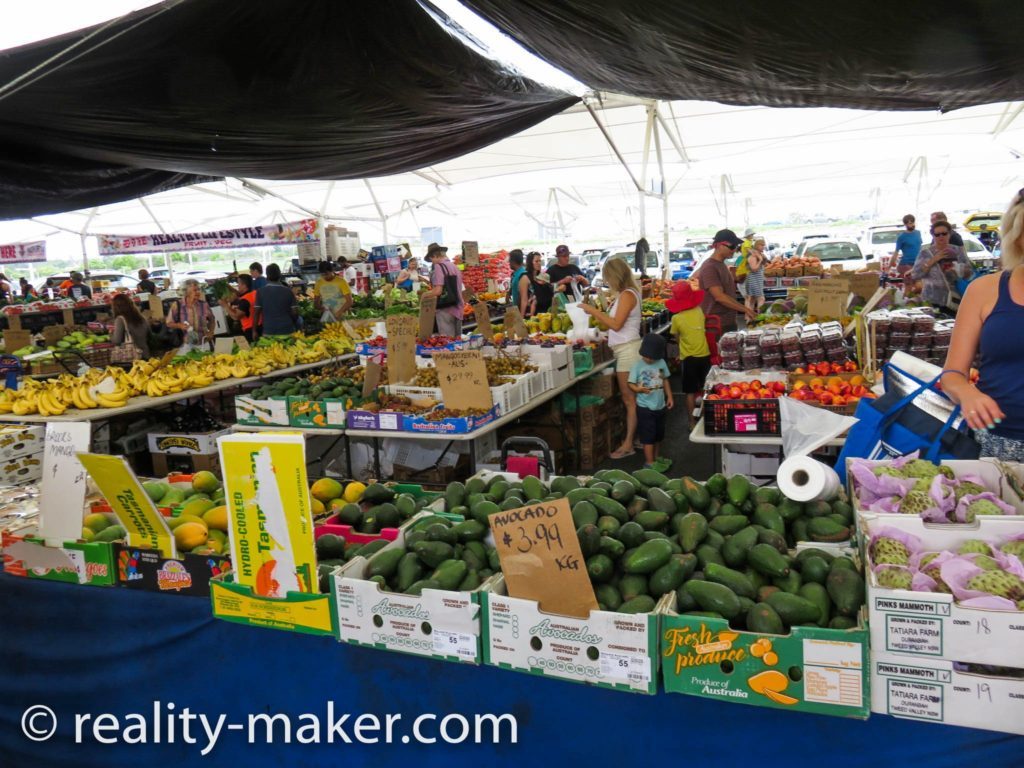 Подойдя к столам с мёдом, я осознал, что оказывается, я никогда не делал обзор стоимости различных медов и продукции из мёда в Австралии продающегося на рынке. Ни разу за все 11 лет, как я покупаю мёд у постоянного продавца- армянина из турецкой части Армении с первого дня его торговли на рынке и ни разу за 12+ лет моего пребывания в Австралии. Хотя Австралийских мёдов за эти годы перепробаванно видимо не видимо.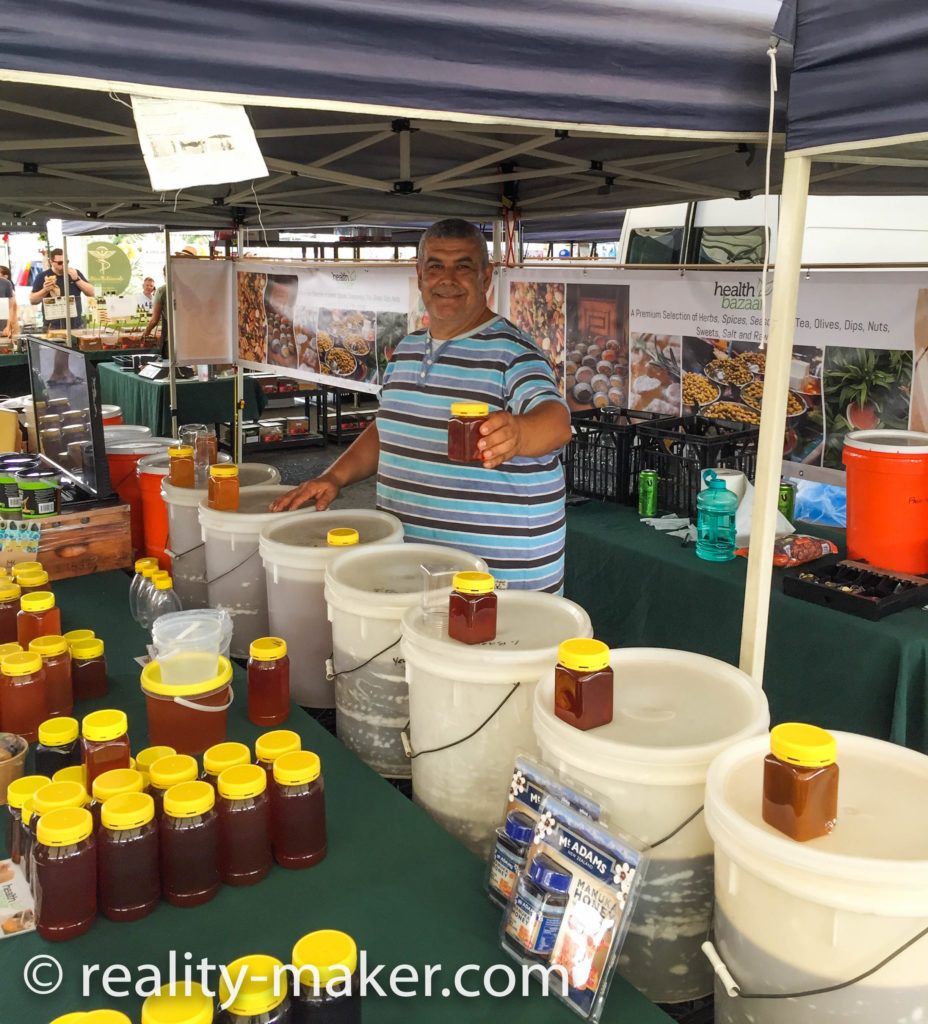 Подошёл, сделал несколько фотографий, как обычно разговорились:
— Hi Jhajha! (имя у него такое, армянское, а не из «Звёздных войн») How it is going? How is the business?
— Hi Vik! All good, we do not sing the COVID Songs our government invents, we have to sell honey and earn money.
Думаю, что за Ковид-песня такая, что за прикол? Залез в интернет. Оказывается это такая милая аббревиатура COVID Song Australia Series of National Guidelines. Кто интересуется- найти легко.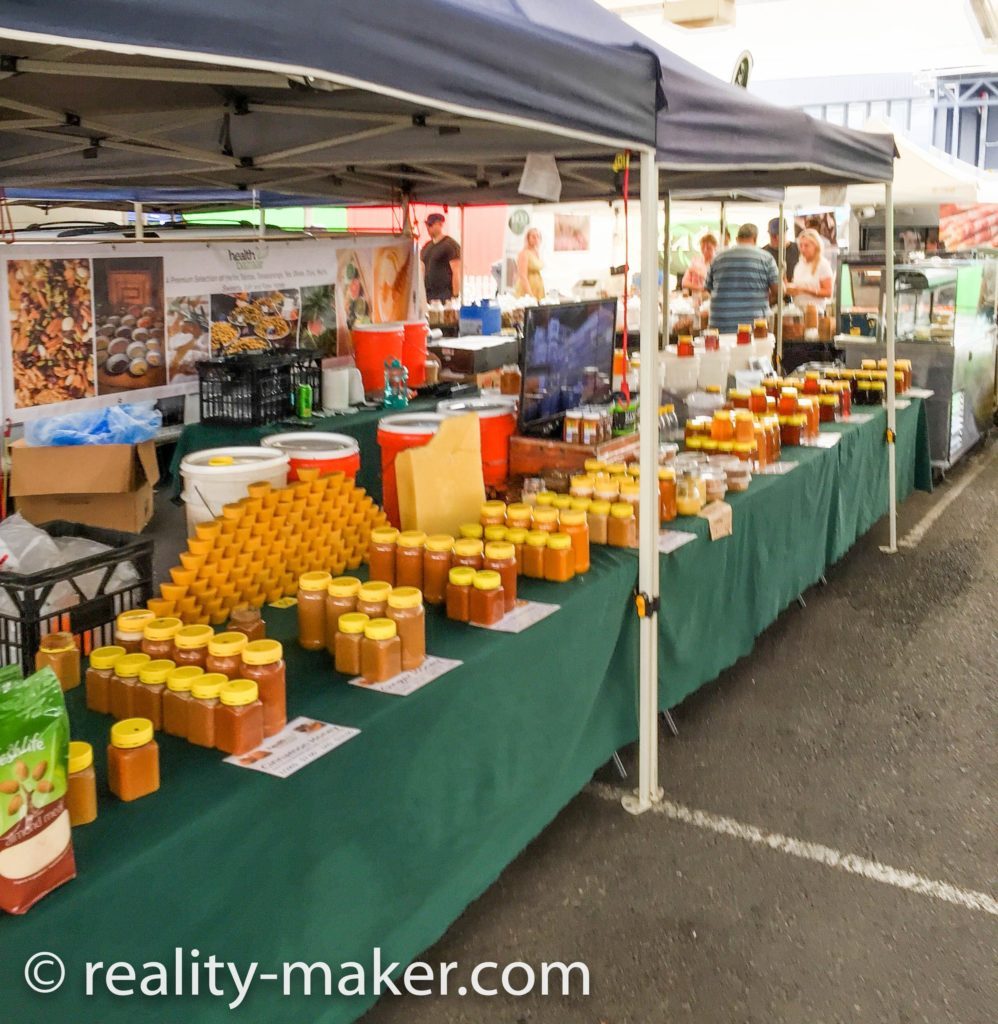 Мёд сфотографировал, заодно и всё остальное немного пофотографирал. Вот рыночная едальня под навесом.  Пришлось фотографировать кусками. Все обстоятельно так закусывают, приготовленным и купленным тут же на рынке. Вообщем не «поют», так как рот основательно поглощением пищи занят. Да в таком количестве, что у меня камера на телефоне, не смогла достать до конца навеса со столиками. Вот там где палатки в далеке, это ровно половина едального ряда.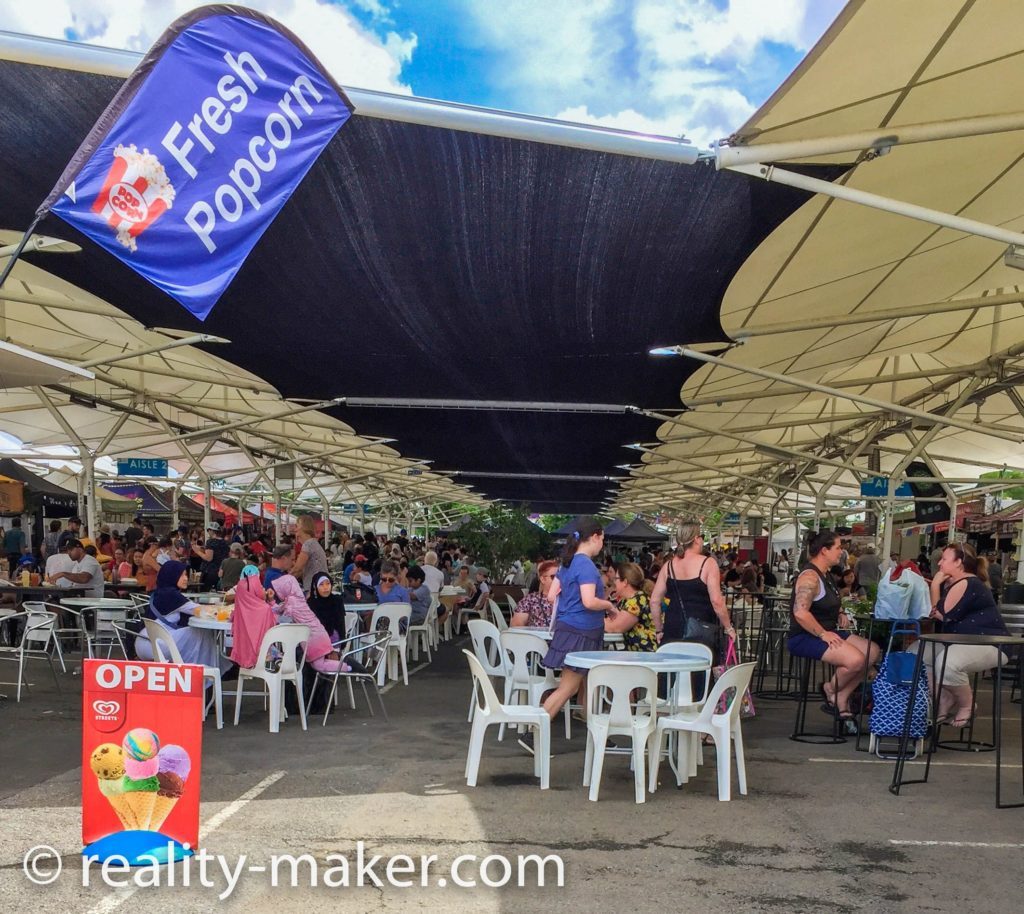 И всё вот так, основательно загружено. Место-то, хорошее. На любой вкус популярный фаст фуд из всех культур и национальностей собран. Вот только, русские пирожки из печи не продают, а так же украинские булочки с маком и казахские баурсаки. Французы продают выпечку, да ещё и разговаривают на французком через ряд. Ощущение, что находишься где-то в Belle France, а не в Австралии.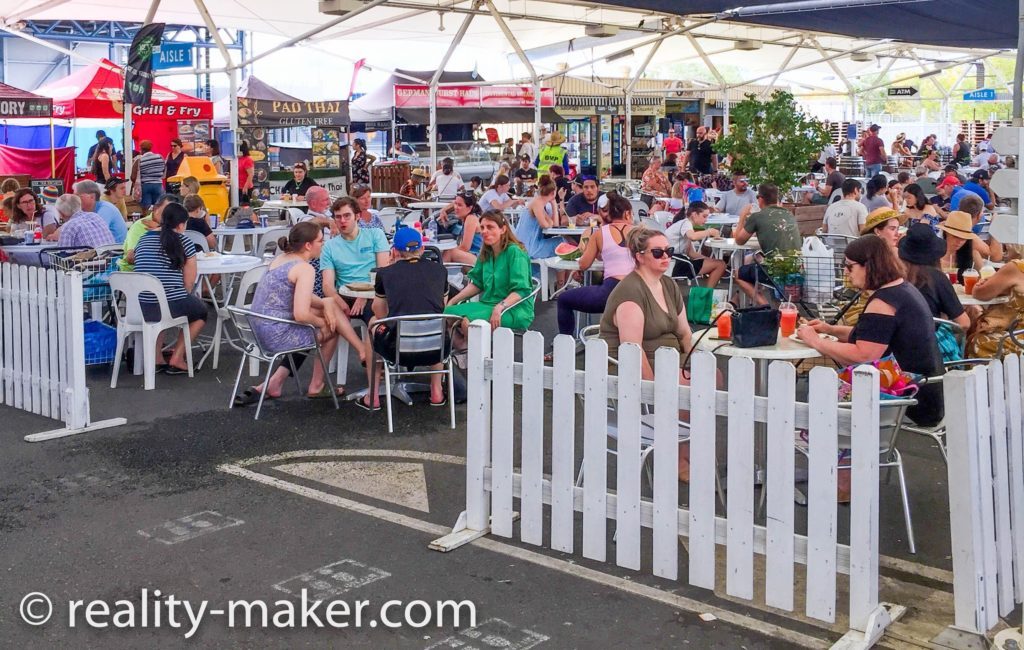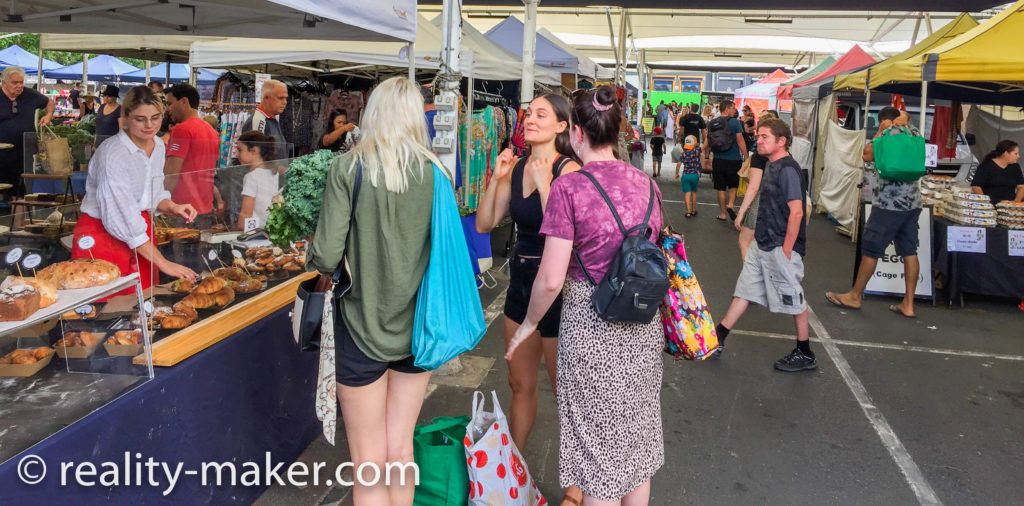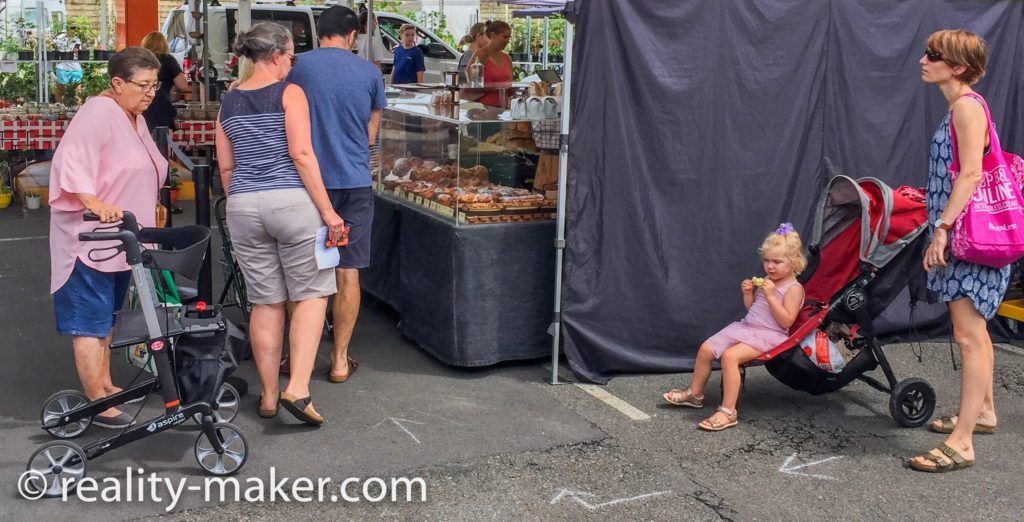 А мёд, тем временем продаётся. Можно в лавке на рынке купить, но лучше договариваться и ехать к продавцу домой и брать сразу ведро килограмм на 30. Потому как то, что можно купить дома, до рынка обычно не доезжает. Можно купить из лаванды, можно купить из цитрусовых, можно купить из мангровых. Можно купить знаменитую мануку, которая на мой взгляд очень сильно уступает мёду из мангровых. Можно брать прямо в рамках, попросить и привезёт на рынок. Соты в рамках заполненные полностью. Вот только прополиуса и перги нет- покупатели забирают всё прямо с пасеки и отправляют домой, в Китай и Японию вместе с мёдом.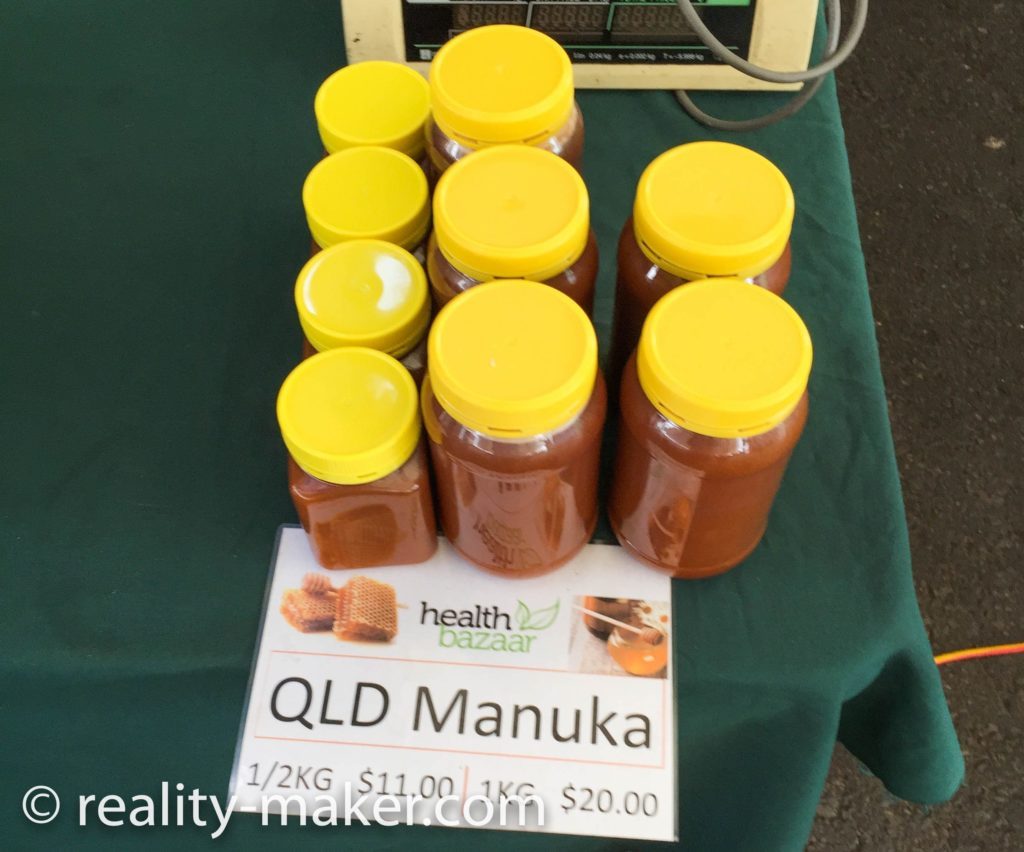 Тот самый мёд с мангровых деревьев. Окисляет металлическую ложку за минуту. Один из лучших медов, которые я пробовал.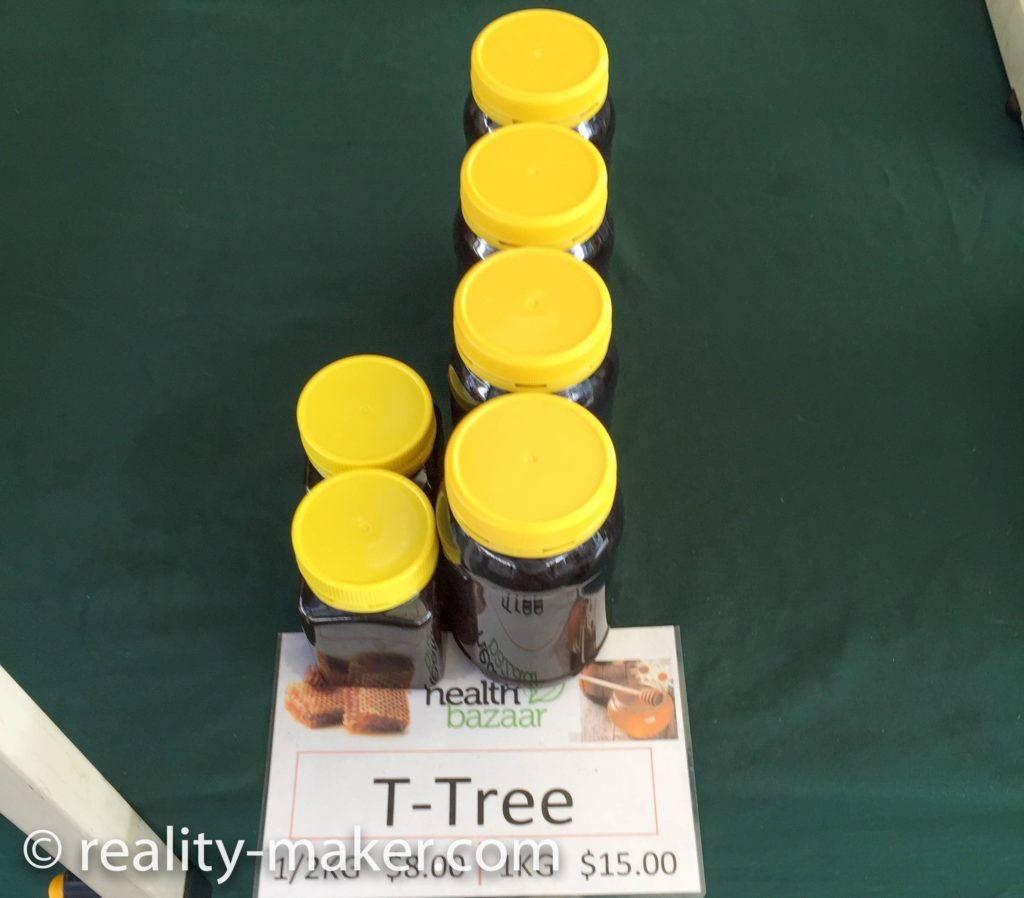 Мёд с ореха макадамии (он же Бразильский орех).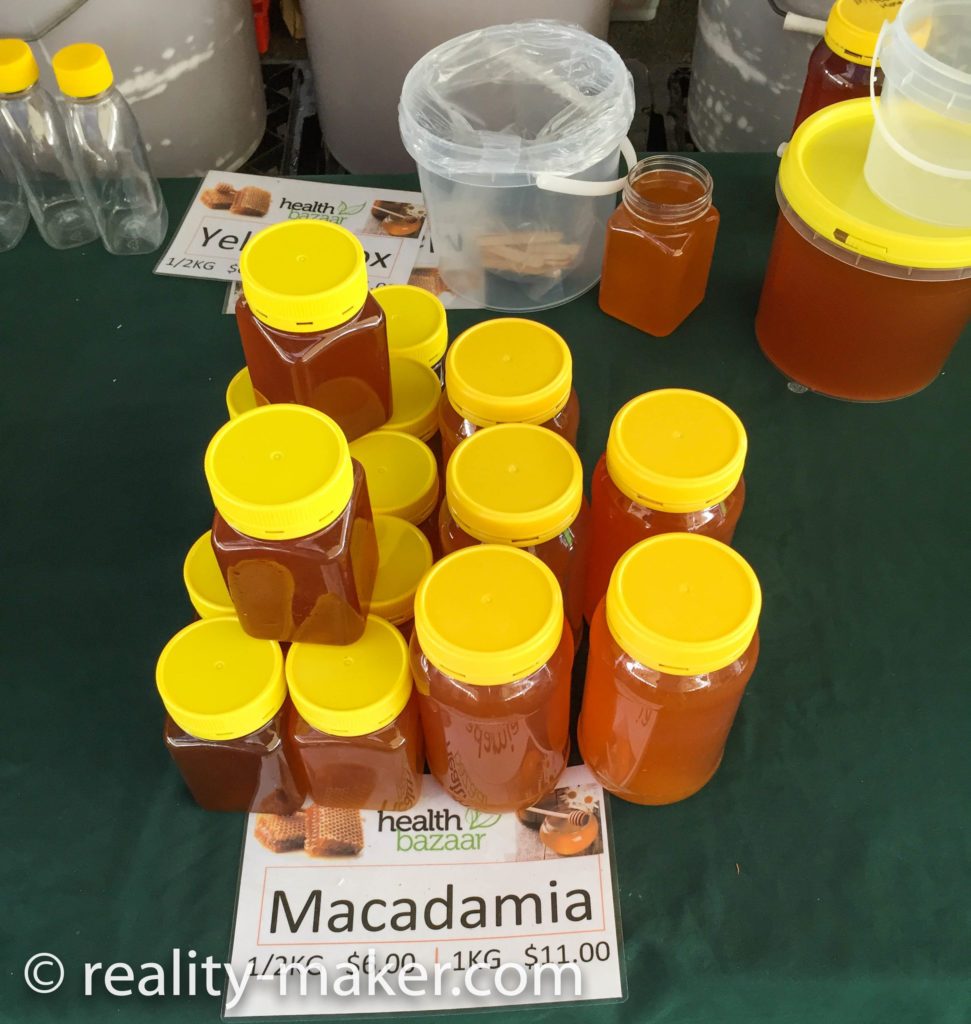 Эвкалиптовый мёд. Очень ароматный.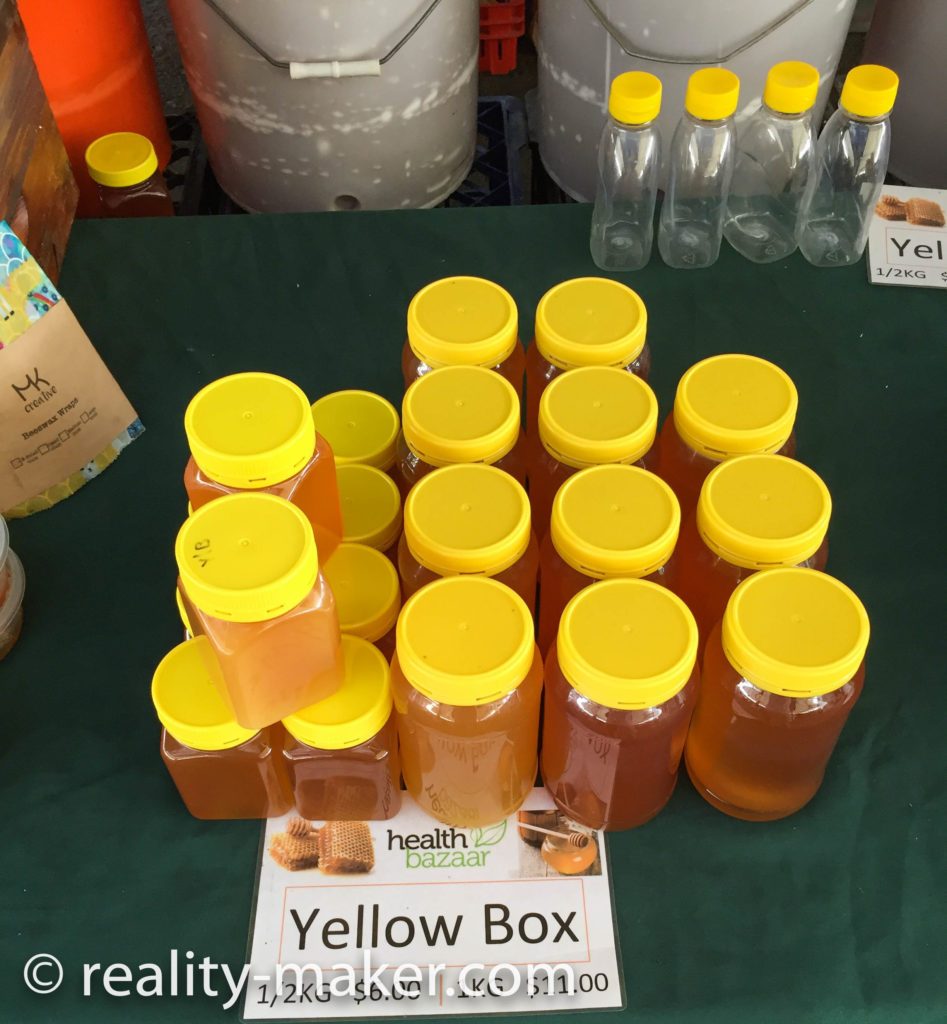 Видео ангара с ульями.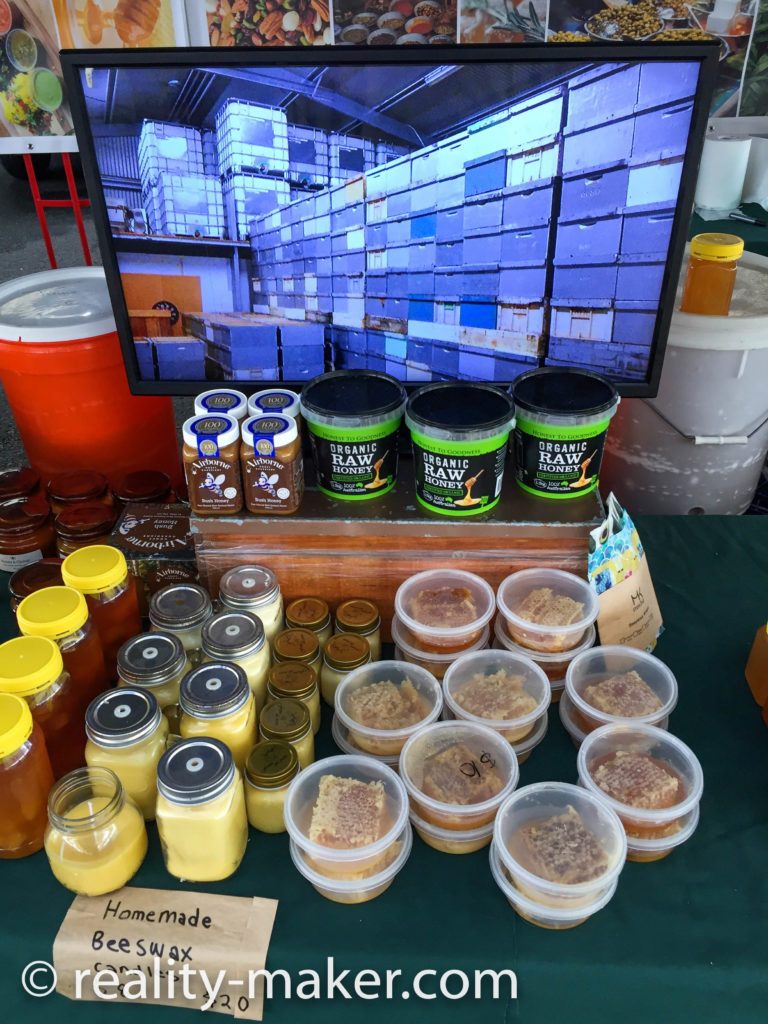 Медовые продукты и воск в ассортименте. Можно купить небольшую болванку, а можно купить сразу брусок воска.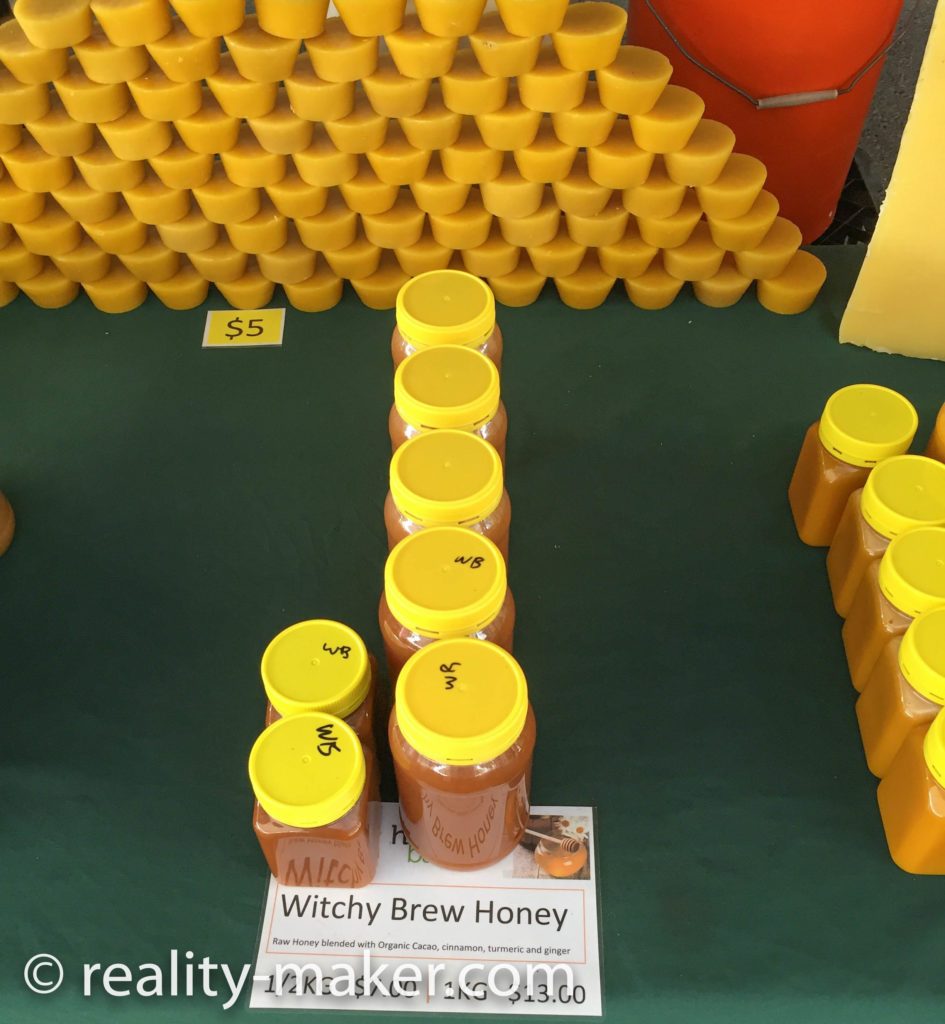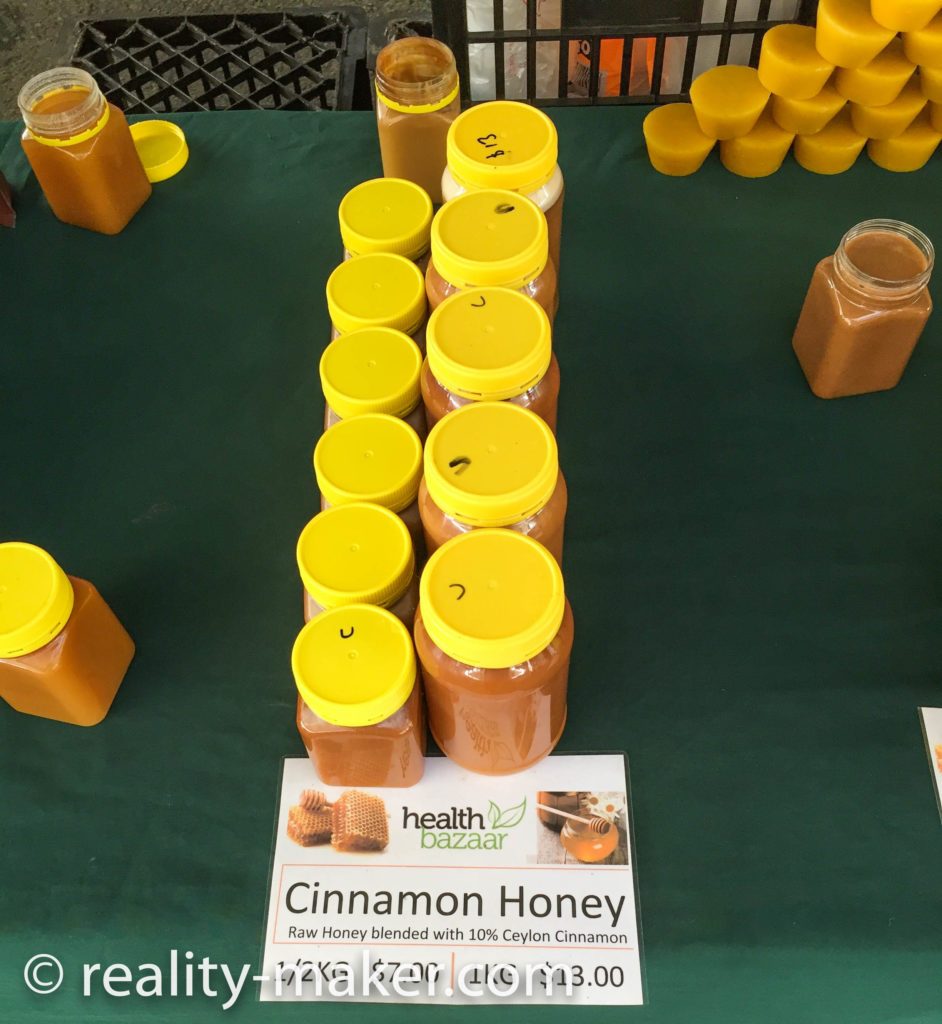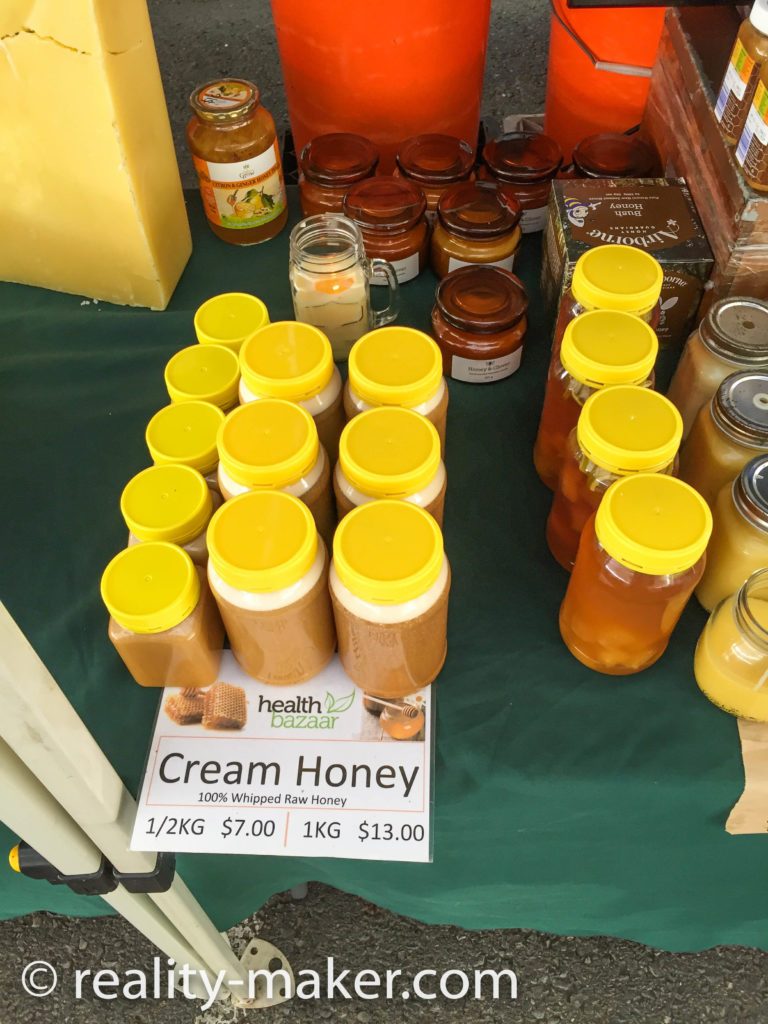 Вот такая получилась прогулка за овощами- фруктами ранним суботним утром.